Author: Alvin Schwartz. Illustrator: Brett Helquist. Release date: 1981. Publisher: HarperCollins. ISBN: 97800060835200.
Plot summary:
This collection of short stories has been delighting, and scaring, readers, for thirty years. Stories include "The Big Toe," a tale about a little boy who discovers a toe sticking out of the ground in his garden, "The Haunted House," a story about the ghost of a murdered woman who wants to avenge her death, and "The White Sating Evening Gown," the story of a mother who rents a used dress from a thrift shop for her daughter's dance, a dress used by a corpse. The book contains five chapters that divide the stories, but they do not have to be read in order. Included in the book are instructions for a game called "The Dead Man's Brains" as well.
Review:
Scary Stories to Tell in the Dark
is a truly frightening, but fun, collection of short stories that tweens are sure to love. Published thirty years ago, generations of young readers have been enjoying these bone-chilling tales. Some of the stories are darker than others, but none are too scary, graphic or violent for tweens. The collection, as well as the other titles in the series, was listed by ALA as the most challenged books from 1990-1999, and continues to be challenged, though not as frequently today. Although some of the illustrations are frightening or surreal, there is nothing truly sinister that a quick chat with a parent wouldn't take care of for younger tweens.
Genre:
Short stories/ Horror
Reading level:
Grades 4-8
Similar titles:
Other titles in Scary Stories series by Schwartz, Favorite Scary Stories of American Children by Richard Young and Judy Dockrey Young, 13 Scary Ghost Stories by Marianne Carus.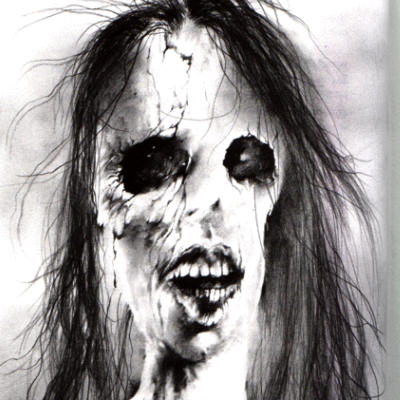 I had to add this picture.
This was really the only thing in the
book that I had trouble with as
a tween. She really scared me!
Personal thoughts:
I absolutely loved this book as a tween, and even earlier! I remember reading these stories with my two older sisters and being scared, but not to the point that it kept me up at night. I like how Schwartz created a chilling set of stories that is still appropriate for younger readers. I'm not surprised that they have been challenged so frequently, but I believe that they are appropriate for tweens. I saw no ill effects in myself after reading them, in fact, they inspired me to write my own short stories!
Themes:
. Scary stories, ghosts, monsters.
Awards/Reviews:
Grand Canyon Reader Award winner, considered classic work of children's literature.
Series Information:
Book one in Scary Stories series by Alvin Schwartz.
Character information:
N/A
Annotation:
Prepare to be scared in this bone-chilling collection of short stories that are sure to make you tremble!